Welcome to france-lottery.com. On this website you will find information on news, game explanation and draws about the official French lotteries. Typical French lotteries are the Euromillions, Millionaire, Keni and Loto. Buy lottery tickets online for this lotteries. La Française des Jeux is a French company that has a monopoly on organising most games of chance and sports betting. The games they cover are Euro Millions-My Million, Joker+, Loto, Keno Gagnant a vie, and Amigo.
Which Francelottery do you wanne play?
Some lotteries have an interesting history that goes way back. Take a look at the France Loto or the My Million Euromillions. Since the establishment in 1976 it has gained national attention for it's great prize money and Jackpot. A draw takes place three days a week at Monday, Wednesday and Saturday. So with this lotto you regularly have a chance to win great prize money.
Euromillions Jackpot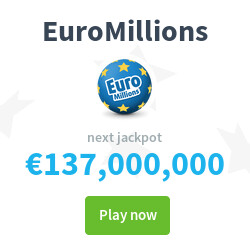 Euromillions draw
Tuesday 12 September 2023
5- 14- 36- 40- 42- 2- 11
Friday 8 September 2023
10- 20- 21- 26- 33- 3 -4
Tuesday 5 September 2023
1- 7 – 24- 41- 48- 10- 12
Friday 1 September 2023
4-5- 35- 37- 43- 5- 6
Questions about the lotteries
Below the most frequently asked questions (FAQ).
Which official lotteries are organized in France?
La Française des Jeux (FDJ): This is the national lottery of France. FDJ hosts a wide range of lottery games, including the famous Loto, EuroMillions, Instant Games and scratch cards.
Euromillions
EuroMillions: This is a European lottery organized in cooperation with several European countries, including France. Players can win huge prizes by picking the right numbers. Players choose five main numbers and two "lucky star" numbers from a sequence. To win the jackpot, all numbers chosen must match the numbers drawn. If the jackpot is not won, it can continue to grow until it reaches a certain amount
Lotto
Lotto: This is one of the most popular lottery games in France. Players select a series of numbers and can win prizes based on the number of matching numbers. Lotto is a popular lottery in France. Players choose six numbers from a sequence and try to win a jackpot by guessing all six numbers correctly. There are also prizes for players who guess part of the numbers correctly.
Millionaire
Millionaire: This lottery gives players the chance to become millionaires through a simple lottery with scratch cards. Millionaire is a scratch off lottery organized by FDJ. Players purchase a scratch card on which they must reveal hidden symbols. If they reveal the correct combination of symbols, they win a prize. Millionaire gives players the chance to become a millionaire by scratching a lottery ticket.
Keno
Keno is another popular game offered by FDJ. Players choose a series of numbers and try to match the numbers drawn. Keno draws take place several times a day, giving players regular chances to win prizes. Apart from these well-known lotteries, FDJ also offers other games of chance and scratch cards. They have a wide range of games to suit different preferences and budgets.
These are just a few examples of official lotteries organized in France.
Is the Euromillions an official French lottery?
Euromillions is not officially French, but the French think it is. Although Euromillions Lottery bears the seal of nine European countries, it seems that this is their lottery for the French because the drawings take place twice a week (Tuesday and Friday nights) in Paris. Therefore, do the French have a better chance of winning Well, no, because every lot has the same chance of winning, whether from France, Germany, Spain, and even from a country other than nine organizing countries, as long as you have an official lottery ticket.
How to buy lottery tickets if I don't live in France?
Of course, if you live in France, it is very easy to get lottery tickets for local lotteries. Like at Giantlotto or Thelotter, you can buy lottery tickets online all over the world in a legal and official way. Both parties have many years of experience in selling international lotteries.
When is the draw of the Euromillions my million rafflue?
The EuroMillions My Million Raffle drawn is every Tuesday and Friday night at 20:45CET in Paris.
When is the draw of the loto in 2023?
The French loto drawn is on Mondays, Wednesdays, and Saturdays at 20:30 GMT in 2023.
What & when was the biggest jackpot in a France lottery?
In 2011 somebody won the jackpot of 24 million, the biggest price in history for the Loto. A single ticket claimed the largest France Lotto jackpot to-date worth €24 million. After 34 rollovers somebody won the jackpot. In october 2021 the EuroMillions jackpot of €220 million has been won by a player in France. The winning numbers were 21, 26, 31, 34, 49 and lucky stars 2 and 5. This was the biggest Euromillions my millionaire maker jackpot ever won.
What er the winning odds?
The winning odds of the France Loto Jackpot aren't very high. On the other hand: the amount of Jackpot money is definitely impressive when you win. For example, a very lucky player won 24 million euros in 2011! It took 13 draws before this special moment. Interesting is the fact that the Jackpot started with 13 million euros, so because of the many rollovers it nearly doubled. Another great Jackpot hit took place in 1996. Sometimes it takes years, but when the Jackpot falls it definitely makes the headlines!
What is my canche to win the Lotto jackpot?
The Loto is not only popular because of the great Jackpot. The winning chance of 1:16 is important for the popularity of this lottery as well. A winning chance of 1:16 is actually quite good, compared to other lotteries. Winners don't even have to pay taxes, which makes this lottery different from the Powerball Lottery. One of these winners was a factory worker from the French city of Montpellier. He won the Jackpot not once, but twice! In 1996 a few million French Francs were added to his bank account, about 2.8 million euros. Funny enough the millionaire decided not to quit playing. He loved it so much that the played again with the same numbers. They definitely were his lucky numbers, because in 2011 he won the Jackpot of 3 million dollars!
About Française des Jeux (FDJ)
Française des Jeux (FDJ) is France's national lottery. It is a national procedure initiated by the courts in 1976 and applies to the organization and supervision of various events and lotteries in the country. FDJ has a monopoly position in France and plays an important role in the national government industry. FDJ says goodbye before big projects and good deeds. This means an economic burden for the sale of goods and the exploitation of businesses of all kinds. A major challenge for the French government is that it must be used to open services and social programs.
FDJ enforced a strict security policy on primary liability and obtained strict justification for contract negotiations. Implementation needs to be done on a regular basis to ensure you do security reviews, choose to deploy and provide information, and receive information on issues and issues.
Kortom (La Française des Jeux) is the main French lottery company responsible for lotteries, games and lotteries. It plays a major role in the national government industry and is backed and dealt by great people and big projects
News and winners French lotteries (2023)
Vouchers are becoming increasingly popular in 2023 as lottery prizes. During weekend lotteries, the prizes to be won are increasingly vouchers that can be spent in supermarkets. In Tinténiac, in Ille-et-Vilaine, vouchers of 10-800 euros were on offer, these vouchers are particularly popular at this time of inflation.
The lottery in Tinténiac, Ille-et-Vilaine, offered vouchers that could be used in shops. The lottery in Tinténiac, Ille-et-Vilaine, offered vouchers that could be used in shops. Radio France – Julien Prouvoyeur. All seats in this community hall in Tinténiac, in Ille-et-Vilaine, are occupied. The lottery, sponsored by the association "Les pompiers solidaires", is regularly attended by people, but this Sunday many are trying to win. There are 4,000 euros worth of prizes to be won, the prizes divided into vouchers. These cards are accepted in supermarkets. These prizes are hugely appreciated by players during this period of inflation.
Enough cash available
The operator said nearly eighty percent of FDJ outlets remain open. Most of these are in tobacconists and newsagents, which do not have to close. In addition, the operator said that there's enough cash available to address the situation in the short term.FDJ will donate 200,000 euros to Secours Populaire Français, a non-profit organization dedicated to fighting poverty and discrimination in public life.
How to play Euromillions in France?
Select five big numbers between 1 and 50 and two lucky star numbers between 1 and 12 at the French Euromillions. Participation is basically the same as in the other geoganised Euromillions countries. We only have extra bonus jackpot called My Million Raffle here you can win an extra 1 million. This prize can only be won by having a Euromillions lottery ticket from France. A winner follows from this after every draw. You can play online in all participating countries/regions, or buy lottery tickets in authorised shops.
FDJ is one of the participating countries in the EuroMillions lottery, an international lottery played in several European countries. Players choose numbers and try to match the winning combination to win huge jackpots. The draws take place on fixed days.
How to play France loto?
As is the case with any other lottery, it's all about picking the right number. In the case of France Loto you have to choose five numbers from a range of 49. There's also a Lucky Number involved from a range of 1-10. You win the Jackpot when the standard number and Lucky Number correctly, so six numbers in total. The minimum amount of Jackpot money is 2 million euros, but this increases when there's no hit. In that case the Jackpot is one million more next time. The maximum number of roll overs is 34.
The rules of the Loto are really simple. You need to pick five numbers from a range of 1 to 49, and one extra number out of 1 to 10. You win the Jackpot if your chosen numbers and the extra numbers match with the numbers that appear during the draw. You win the second prize when five numbers match without the extra number. You win the third prize when four numbers are correct.